About Me
I am a Ph.D candidate at the Information Systems Engineering Department at Ben Gurion University of the Negev.
I have a B.Sc in Computer Science and Bioinformatics, M.Sc in the Cyber Security track of the Information Systems Engineering Department and am a member of the Implementation Security and Side-Channel Lab under Dr. Yossi Oren.
My fields of research include:
Mobile hardware security: especially "hardware meets software" scenarios.
Side channel information leakage.
I am also co-founder of the start-up Voyage 81 where we do exciting things with cameras!
Publications
CVEs
CVE-2017-0650 - An information disclosure vulnerability in the Synaptics touchscreen driver could enable a local malicious application to access data outside of its permission levels.
Academic Contact Information
Omer Shwartz
DEUTSCHE TELEKOM INNOVATION LABORATORIES 77 HA-ENERGIA STR. FLOOR 3 BEER SHEVA 8470912 ISRAEL
Email: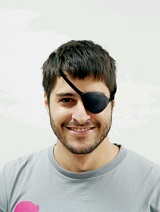 Teaching:
Fall 2017:

TA - 372.1.2102 - Advanced programming
Lab - 372.1.4117 - Information security management

Spring 2017:

TA - 372.1.1105 - Intro to software engineering

Fall 2016:

TA - 372.1.2051 - Algorithms
Personal
I can usually be found by following the smell of burnt electronics. I like breaking things to see how they work and scaring people with unexpected trivia. Did you know that most sea cucumbers have teeth in their anus?
My other hobbies include SCUBA diving, rock climbing and biking around the beautiful desert that surrounds the city of Beer Sheba.
You invited to check out my other cool website.